On our last trip, James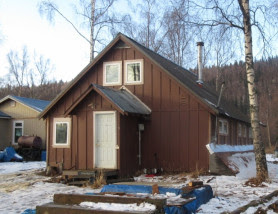 was talking to one of the Native elders about the house, wondering if it was worth putting the effort into repairing.  He got quiet, then said, "Mr. Van [Gale Van Diest, original InterAct missionary to Holikachuk] built that house in Holikachuk.  When the village moved over here to Grayling [in 1962], he took it apart, marked every board with a marker, then rebuilt it over here."  There is a lot of history in that house, both for the people of Grayling and our mission.
June 7-19 found us in Grayling, and we welcomed a work crew of two men to volunteered their time and expertise to help save the mission house.  The basement walls have been caving in for some time, and we'd just about reached critical mass:  if something wasn't done this summer to stabilize it, it was in danger of collapsing.  Many thanks to Tom and Ryan for days of hard work that got the house secured on pilings, and for the hours spent in fellowship and just enjoying the setting of the village.
Enjoy a glimpse into those Alaska summer days below:  you'll almost feel like you were there – WITHOUT the mosquitos.  🙂